Mini boxes for rolling shutters
The ideal rolling shutters for renovations
Particularly appreciated in renovation projects were there is little to no room for the shutters, the mini box also adds an architectural dimension to the facades of new buildings.
It's very compact thanks to a perfect winding: the box doesn't overlap on the glazing and allows the light to penetrate.
The box is only 13.5 cm for a window of 1.60 m high!
The final blade is practically invisible when the shutters are wound up.
Possibility of mosquito net integrated in the box.
It also serves as sunscreen in the summer to protect your home from the sun, while allowing the ventilation of your rooms.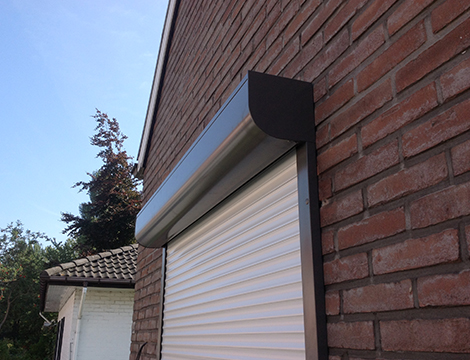 Monobloc shutters
The ideal shutters for energy certification
The monobloc is a "shutter + window" set particularly suitable for new constructions. In addition to its simplicity of installation, the latest innovations grant it exceptional thermal, acoustic and areal permeability performance, in line with the requirements of energy certification and low-energy buildings.
They can integrate all your projects
Completely integrated into the frame, the "tradi" rolling shuttersare invisible in the raised position and preserve a maximum glazing clarity.Thanks to SOPROFEN's exclusive separation system, they protect your large windows and give you the security you need!