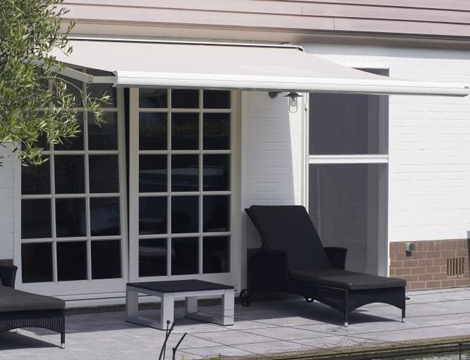 Feel good in the shade under the awning.​
We rarely think of all the benefits that an awning can provide. It turns your terrace or balcony into a new living room protected from the sun and outside looks, but it is also an object of decoration in itself.
An awning sunscreen can decrease the temperature of your home by 2 to 5°c
Our awnings come in a wide range of sizes and tissues
They are factory lacquered in any RAL colour and are equipped with Somfy radio motorisation
Opt for quality
Acrylic canvas meeting the most stringent requirements.
Armatures with articulated arms in lacquered aluminium and stainless steel bolts.
A complete range, 3 designs
The integral boxed awning provides optimum protection. Once folded, the canvas and arms are protected in a box.
The semi-boxed awning encloses the fabric and its winding tube in a box, which makes it possible to protect them from external aggressions. The arms, for their part, remain visible under the box once the canvas is rolled up.
The monoblocawning is attached to a wide aluminium load-bearing tube.